BONE BROTH
WHOLESOME
FARE
Real ingredients taste better.

At Springbone we believe in the power of real food. That means minimal grain and sugar, more vegetables and better meat. No GMOs, antibiotics, refined sugar or canola oil, ever.
Health Benefits
Collagen and Gelatin
As the most abundant protein in mammals, collagen makes up all human connective tissue. Maximum collagen = glowing skin, hydrated joints, stronger nails & a happy gut.
Glucosamine and Chondroitin Sulfate
These brotherly compounds are typically sold as expensive joint supplements for athletes. We'll take a bellyful of broth over a mouthful of pills any day.
Amino Acids Glycine and Proline
These anti-inflammatory amino acids are superstars of gut health and digestion, and are essential building blocks to a strong immune system and muscle repair. Oh, and glycine has been shown to significantly improve sleep and cognitive function… Google it.
Hyaluronic Acid
This nonsulfated glycosaminoglycan is given as an injection to arthritis patients to lubricate their joints. Also an important component of skin, it naturally decreases as you age, eventually resulting in wrinkles.
| Broth (16oz) | vs. | Juice (16oz) |
| --- | --- | --- |
| 0 grams | Sugar | 35 grams |
| <1 gram | Carbs | ~50 grams |
| 15 grams | Protein | <5 grams |
| <150 | Calories | 250 |
| 3 grams of good fat | Fat | 0 - just sugar! |
| $6 | Price | $10 |
What Makes It "Bone" Broth?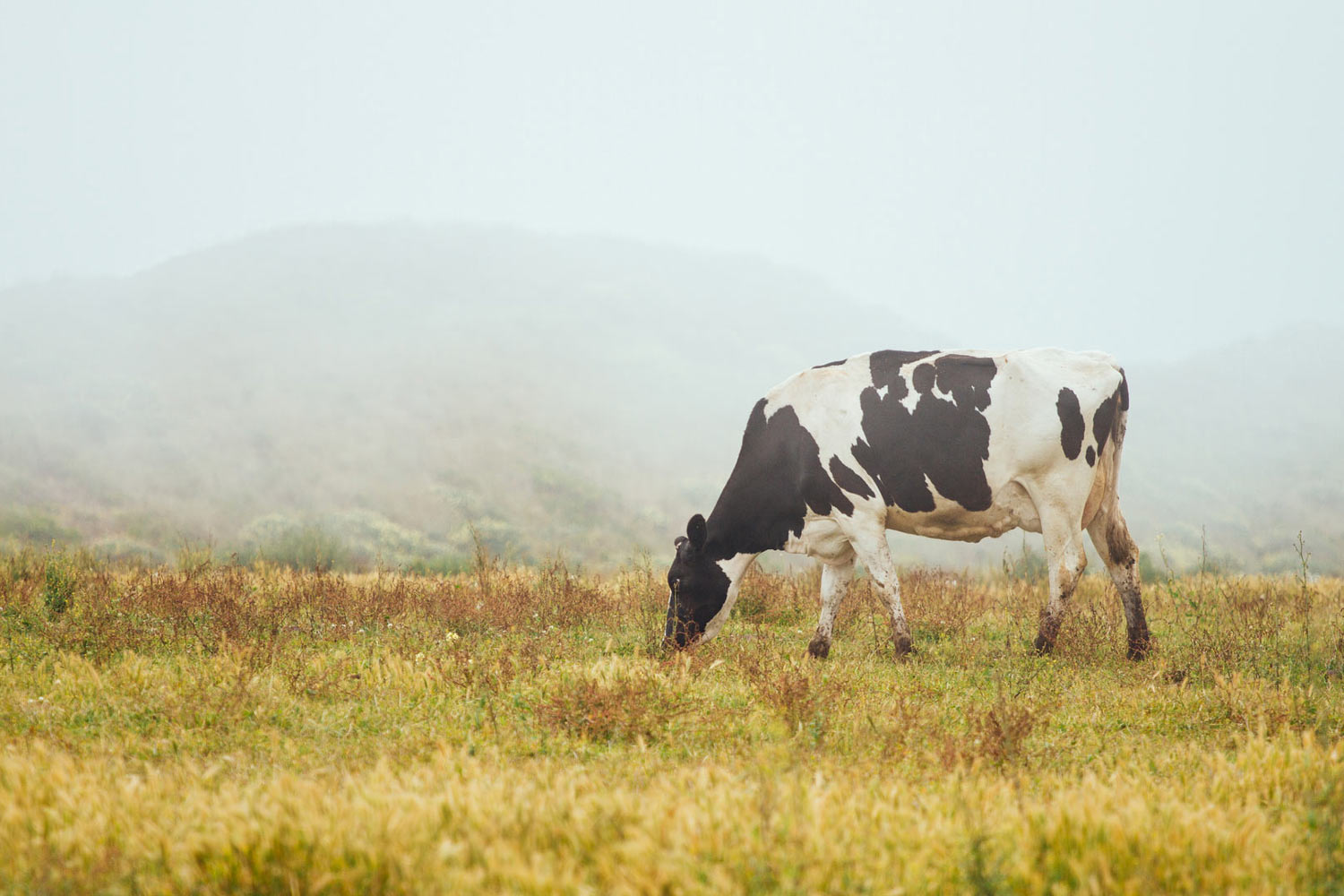 Step 1: Source bones from grass-fed / free-range animals.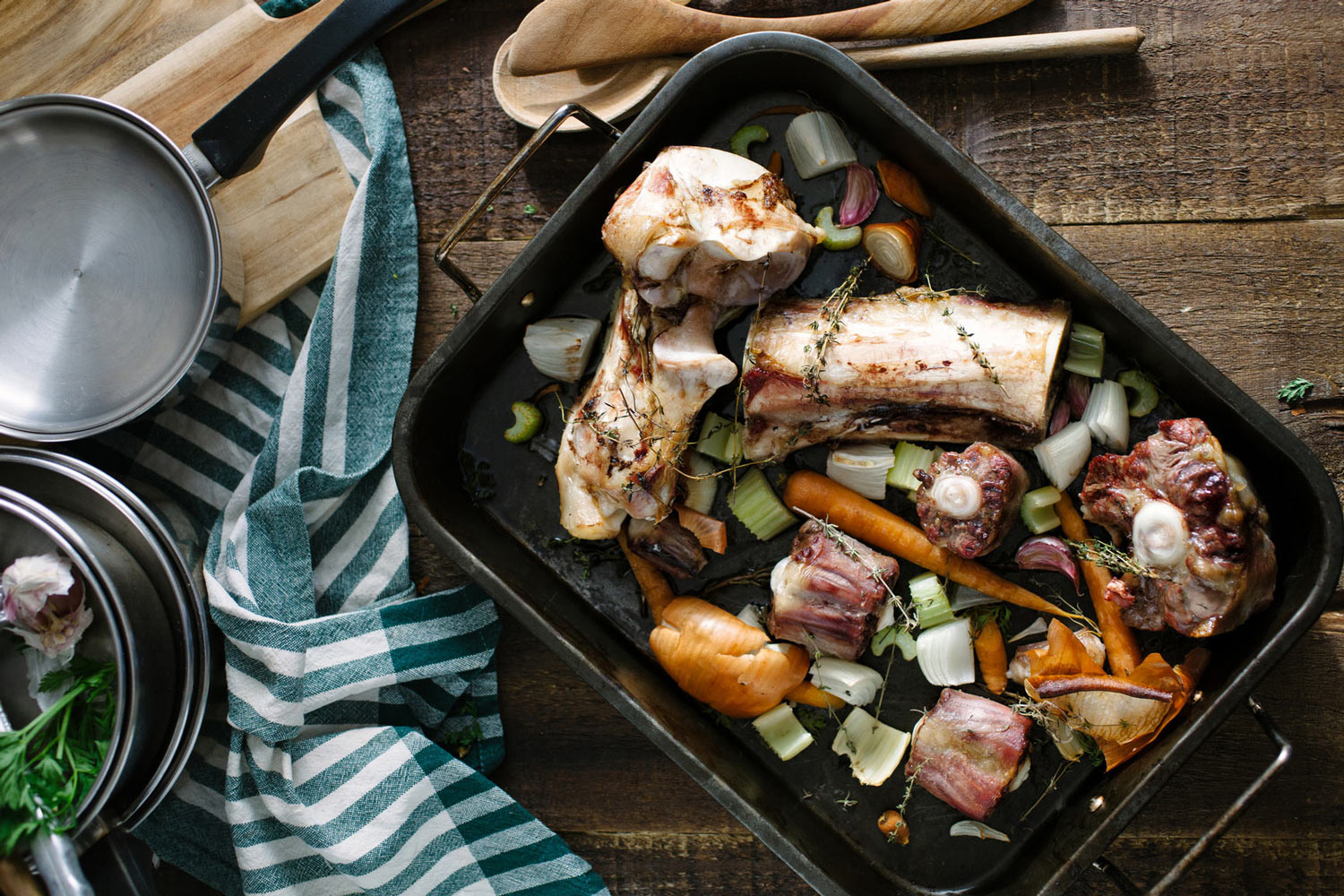 Step 2: Roast bones to perfection.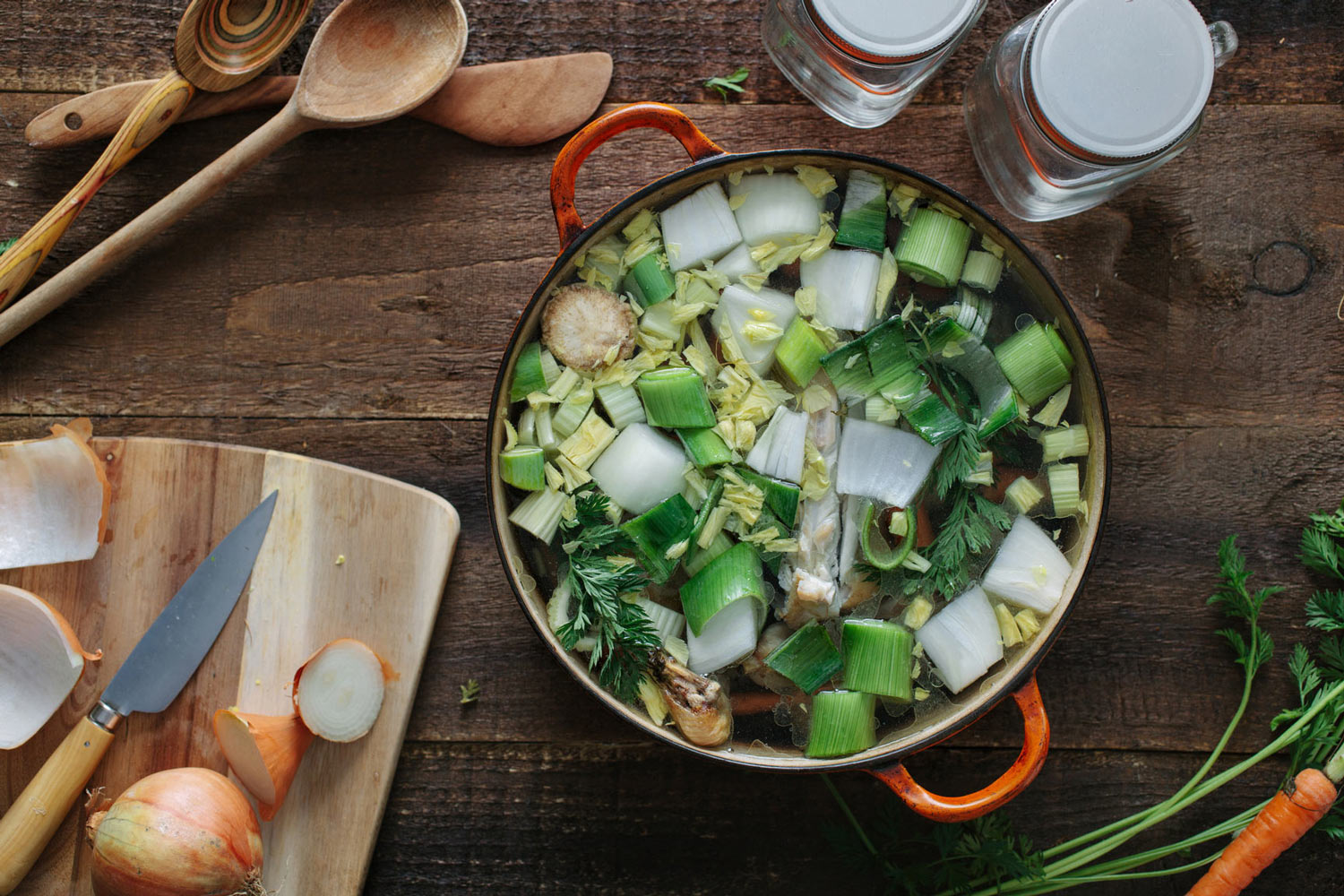 Step 3: Add bones, organic veggies, herbs, water, and apple-cider vinegar to a pot, and bring to a boil.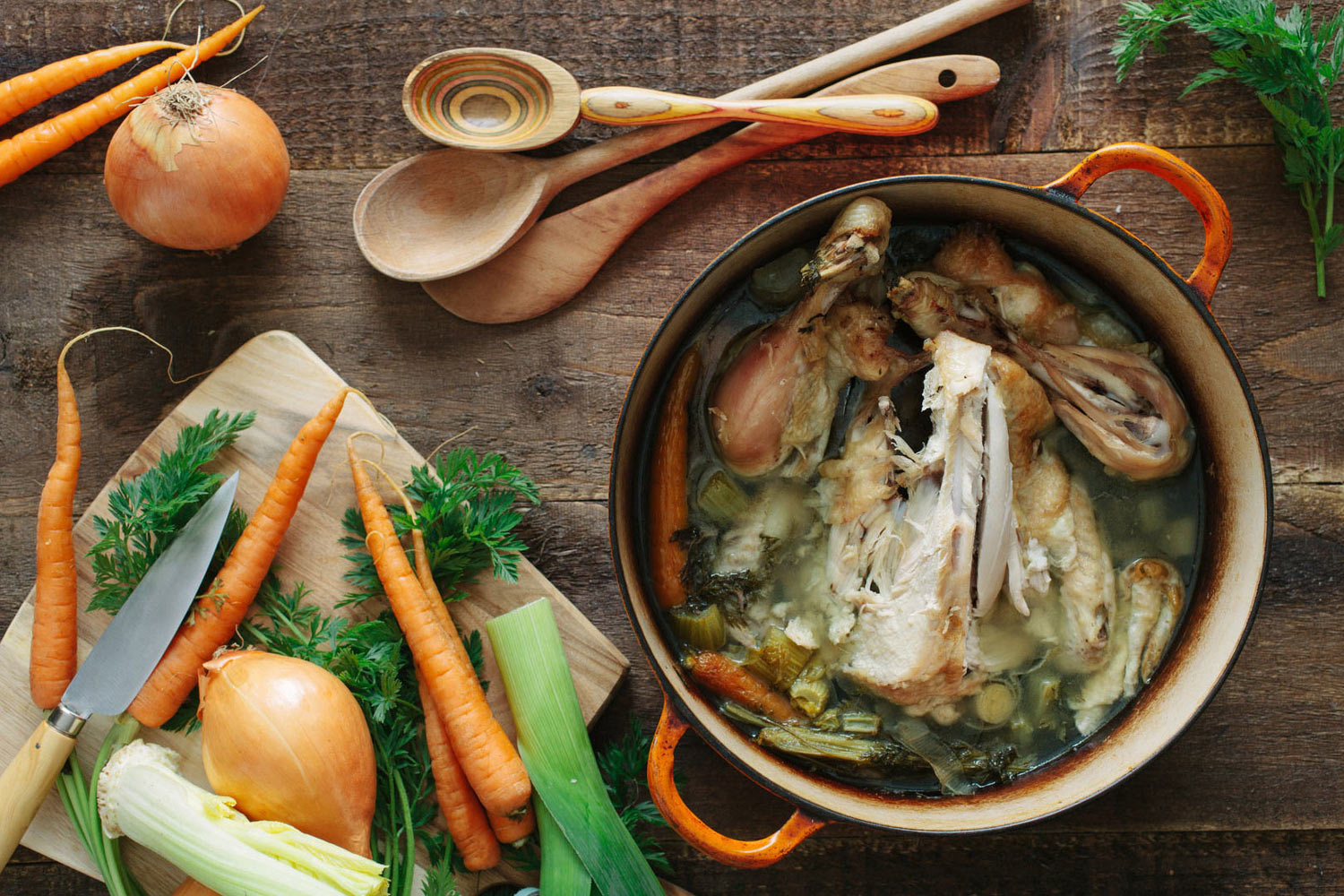 Step 4: Simmer with a watchful eye for up to 24 hours to breakdown the bones and release their nutrients.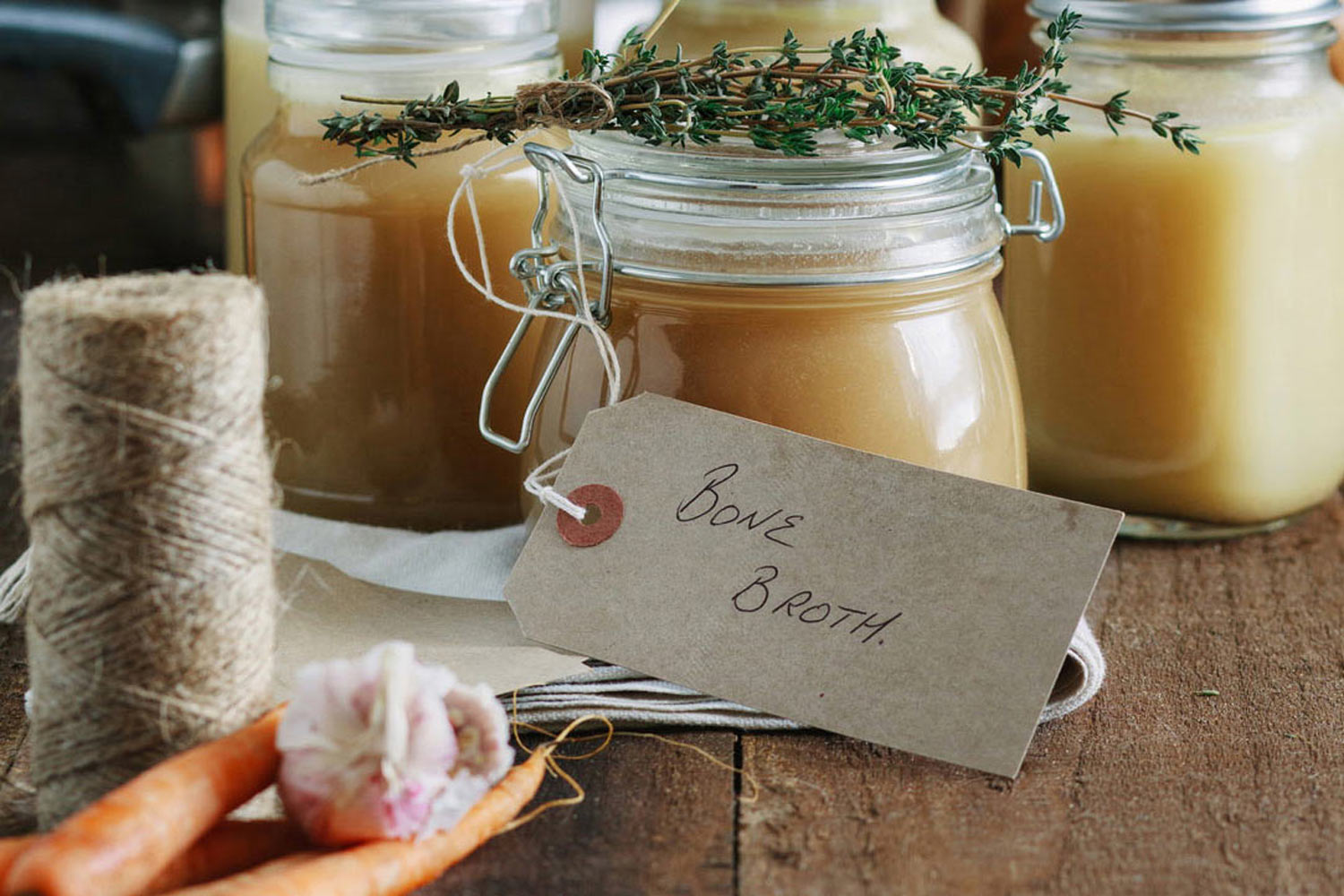 Step 5: Strain, sip, and smile.
Our Story
As young professionals living in New York, we struggled to find the time to prepare wholesome, nutritious meals for ourselves. Every take-out or delivery meal meant another compromise to our health. We searched obsessively for healthier options, but were left consistently disappointed by what we found. Even so-called "health-food" restaurants didn't serve the whole, unadulterated food we craved. They relied on trans-fat laden industrial seed oils for cooking and used meat raised on biologically-inappropriate grain feed and in inhumane conditions. We knew we could do better.
Springbone was born to fill an essential need: providing nourishing food that respects your body and the animals and farmers that supply us. Our core product, bone broth, has sustained our ancestors for millennia. We're not reinventing the wheel here but we're taking this ancient concept and spicing it up with delicious recipes that make it easy to eat (or drink) healthy! Our menu is made up almost entirely of organic vegetables, fruits and 100% free-range/grass-fed meats. You won't find suspicious oils or fillers anywhere in our kitchen.
Broth Bros.
You know Jordan as the shirtless guy falling out of handstands in Washington Square Park. A reluctant native New Yorker, you can find him hiking in the mountains, reading obscure nutrition journal articles, and chugging broth while recovering from his latest injures.
Sam loves hitting the trails in his Vibram Five Fingers and throwing ceramic mugs for Springbone in his spare time. He can be found in the kitchen tinkering with recipes.